The Others is episode 9 of Series 2.
Synopsis
The spies are stunned when they are forced to team up with old foes Violet Webb, Lewis Chuckworth, and the Worm to battle James Blond.
Trivia
References to the spy genre.
The older spy commits treason to avoid being replaced.

James Blond ("The Others")
Jemima Thursday ("Old School")

James Blond says, "you've got Doctor No chance." This references to the first James Bond film (starring Sean Connery) called "Doctor No".
First appearance of Violet Webb.
Second appearance of Lewis Chuckworth, first appeared in "Face Off".
Second appearance of The Worm, first appeared in "Nerd Alert".
Gallery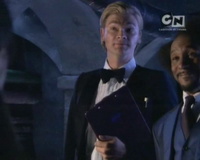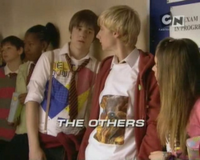 Videos