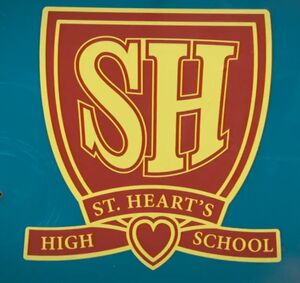 Overview
Saint Heart's High School, formerly Bleakwood Academy, is a school where the M.I. High project was relocated to in Series 6 and continued in Series 7.
M.I.9
Because of the top secret M.I.9 base underneath the school, it is often used for high profile occasions and has visits from VIP's (Very Important Person). M.I.9 missions regularly use the staff and students for cover stories.
Staff
Students
Trivia
In, "Frankenstein", Saint Hearts celebrated it's Centenary (1914-2014) year. It was discovered that KORPS had a secret base under the school.
Goof: In "Grosse Encounters", despite Saint Hearts only changing it's name recently from Bleakwood Academy, the map used by Area 5.1 reads Saint Hearts. While it is possible that the map was redrawn soon after the renaming, it is also unlikely.
Goof: In "The Beginning" the school sign from 1941 read Saint Hearts, when it should have read Bleakwood Academy due to the school name not changing for another 70 years.
Gallery
Community content is available under
CC-BY-SA
unless otherwise noted.