Red Button Rampage is episode 9 of Series 1.
Synopsis
Dylan Towser has world peace in his grasp with his missile disarmer. General Ryan Scarp brings him and the army to Saint Hopes for a drill day and to protect him from a kidnap scheme.
However, when Daisy and Dylan are kidnapped from under their noses, Blane realises Scarp is the culprit. He does not want an end to war, and only war will secure the military's funding. In the final battle, will the team emerge victorious?
Trivia
Gallery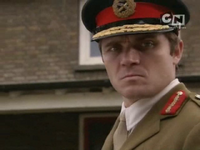 Videos