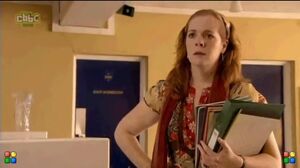 Helen Templeman was Deputy Headmistress at Saint Hopes. She appears as a series regular from Series 1-Series 2 (a total of 23 episodes). She is portrayed by Jane Cameron.
Biography
She is a young, sensitive, ambitious teacher and has a massive crush on Lenny Bicknall, as revealed in "Spy Animals" when she got hit with a dart containing truth serum. She disappears after Series 2 and is replaced by Hermione King.
She has no idea about M.I.9; however, she repeatedly came close to/or inconvenienced M.I.9:
In the episode, "Face Off", she nearly discovered Lenny Bicknall being taken away by M.I.9 causing Rose Gupta to have to make up a cover story about lazy bin men.
In the episode, "Spy Plane", she gave away that Sajid Al Flatley (Blane Whittaker) was at Saint Hopes.
In the episode, "The Others", she was told flying mice had infested the school when she came close to uncovering the spy training test.
Trivia
She was one of the very people not to catch the flu epidemic in "The Cold War".
According to the nano nits, she has a weak mind. ("Nano Nits")
Kenneth Flatley has a little crush on her.
Mechanics is one of her hobbies.
In "The Big Bling" it was revealed she has a huge celebrity crush on footballer Ben Lacey.
Gallery