Evil by Design is episode 3 of Series 2.
Synopsis
A new fashion range is imprinting logos onto kids, with weird side effects. Unless M.I.9 can stop Lorenzo Ferrago, children all over Britain will become half human, half clothing.
Daisy Millar has entered Nice Magazine's "Find Me a Model Contest". The grand prize? A picture with Lorenzo Ferrago! However, Rose wins the competition and Daisy and Blane are forced to look ugly so Ferrago won't suspect them as spies.
They find out that SKUL are putting in chemicals into the clothes, and in exchange Ferrago will become the number one fashion designer in the world. The chemicals cause the children to be imprinted with the Ferrago logo, but all the children thinks that it is the newest fashion so they continue on wearing it. The more Ferrago clothes you wear, the more logos on your body. However, too much Ferrago clothing and you become a half human, half clothing.
Trivia
This episode marks the first appearance of Lorenzo's Ferrago.
This episode features "Nice!" magazine, which has been mentioned in: "Red Button Rampage", "Evil by Design" and "The Big Bling".
The Ferrago design logo is a green version of the Navman logo.
Gallery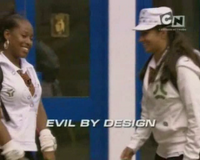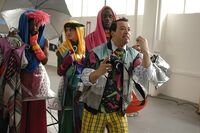 Videos
Community content is available under
CC-BY-SA
unless otherwise noted.