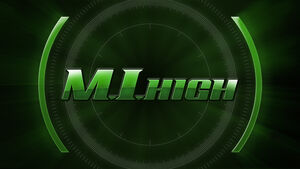 The following is an episode list for the television series "M.I. High", a children's adventure programme on the UK TV channel CBBC.
Overview
Series
Episodes
Original Airdate (in the UK)
Series Premiere
Series Finale
1
10
January 8 2007
March 5 2007
2
13
January 7 2008
March 24 2008
3
13
January 5 2009
March 30 2009
4
13
January 4 2010
March 15 2010
5
13
January 10 2011
March 21 2011
6
13
January 7 2013
March 25 2013
7
13
January 13 2014
March 31 2014
Episode
Title
Writer
Original Airdate
1
"The Sinister Prime Minister"
Sara Jay
January 8 2007
M.I.9 become suspicious when the peace-loving prime minister declares World War III.
2
"Eyes On Their Stars"
Eva Angelina
January 8 2007
Zombie kids are on the rampage, ransacking music stores, and M.I.9 suspect boy-band 'Crush' to be behind it.
3
"The Big Freeze
Sum Tin Wong
January 15 2007

Daisy and Rose's relationship gets frosty as Britain is plunged into a new ice age.

4
"The Power Thief"
Ching Chong Chinese
January 22 2007
When freak power cuts sweep the nation, the team are in the dark about who is to blame.
5
"Nerd Alert"
Keith Brumpton
January 29 2007
The Worm has taken control of Britain's space defences, leaving the country vulnerable.
6
"Super Blane"
Nathan Cockerill
February 5 2007
Blane is jealous when a charismatic teen C.I.A officer joins the team.
7
"Spy Animals"
Nathan Cockerill
February 12 2007
A mad inventor tries to sniff out school spies, but assumes the teachers are the agents.
8
"Forever Young"
Keith Brumpton
February 19 2007
When a beautician unleashes a youth potion, Saint Hopes becomes a school for toddlers.
9
"Red Button Rampage"
Nathan Cockerill, Elly Brewer
February 25 2007
Dylan Towser has world peace in his grasp with his missile disarmer.
10
"The Fugitive"
Keith Brumpton
March 5 2007
When a UFO crashes nearby, the team must secure the site for aviation agency AirOne.
Episode
Title
Writer
Original Airdate
1
"It's a Kind of Magic"
Keith Brumpton, Nathan Cockerill
January 7 2008
The team tackle a mysterious mission as a magician kidnaps the US president.
2
"You Can Call Me Al"
Ben Ward
January 7 2008
An inventor brings trouble to Saint Hopes when his AI computer tries to enforce the school rules.
3
"Evil by Design
Nathan Cockerill
January 14 2008
A new fashion rage is imprinting logos onto kids, with weird side effects.
4
"Fit Up"
Keith Brumpton
January 21 2008
The team are pushed to the limit when sleeping sickness hits Britain's kids.
5
"Face Off"
Nathan Cockerill
January 28 2008
A mysterious robbery crimewave is committed accross the city by allegedly well-behaved kids, and the team are stunned when Lenny is arrested too.
6
"Big Sister"
Katie Douglas, Keith Brumpton
February 4 2008
The team investigate when a child-hating Member of Parliament threatens to send Britain's kids to a remote island.
7
"The Cold War"
Keith Brumpton
February 11 2008
The Grand Master unleashes his own cold war on Britain, a nasty flu epidemic.
8
"Nano Nits"
Nathan Cockerill
February 18 2008
Daisy must overcome her greatest fear when the kids and teachers of Saint Hopes catch nits and become master criminals.
9
"The Others"
Ben Ward
February 25 2008
The team is forced to work with old foes Violet Webb, Lewis Chuckworth, and The Worm to battle James Blond.
10
"The Big Bling"
Nathan Cockerill
March 3 2008
The team investigate the captain of the England football team for crimes against bling.
11
"Spy Plane"
Nathan Cockerill
March 10 2008
Will Blane be able to keep his feet on the ground when a mysterious pilot steals an invisible spy plane?
12
"Green Finger"
Keith Brumpton
March 17 2008
Blane goes solo, but is his boy power enough?
13
"Asteroid Attack"
Keith Brumpton
March 24 2008
The fate of the world is in the team's hands when an asteroid hurtles towards the earth.
Episode
Title
Original Airdate
1
"Art Attacks"

January 5 2009

Famous landmarks are being coated in graffiti. Can the new team stop the perpetrator in time?
2
"The Mole"
January 12 2009
A mystery tunneller is robbing all the banks in the country, and M.I.9 must stop him.
3
"Agent X
January 19 2009
Oscar's identity has been revealed on the internet and evil Agent X is sent to kidnap him.
4
"Mind Machine"
January 26 2009
The team must find out why children at Saint Hopes are turning into Japanese fighting fish.
5
"Dark Star"
February 2 2009
An old enemy of Frank's breaks out of jail bent on revenge, hoping to steal the Dark Star.
6
"Fit to Wurst"
February 9 2009
Saint Hopes pupils are getting fatter because of the greasy sausages handed out by Lubavitz.
7
"The New Grand Master"
February 16 2009
M.I.9 gets a chance to catch the Grand Master, but the team's new gadgets are intercepted.
8
"Think Tank"
February 23 2009
Rose leaves M.I. High to go to a genius academy, but all is not what it seems.
9
"Family Trees"
March 2 2009
N80, a top secret real life Neanderthal, is stolen and then escapes onto London's streets.
10
"The Glove"
March 9 2009
The team must find the culprit who is stealing all of the UK's power.
11
"The Visit"
March 16 2009
An international gymnastics competition comes to Saint Hopes, with disastrous consequences.
12
"Operation Flopsy"
March 23 2009
Oscar's mother is a SKUL hostage, so the spies capture the Grand Master's rabbit, Flopsy.
13
"Moontaker"
March 30 2009
The team must shut down a rocket to stop SKUL, but wind up in deep trouble.
Episode
Title
Original Airdate
1
"Run, Carrie, Run!"
January 4 2010
The Grand Master sets off a Despair Bomb that emits fear, anger and hate.
2
"The Bunny Whisperer"
January 4 2010
The team are stunned when they have to join forces with the Grand Master to defeat a massive crime wave.
3
"Quakermass
January 11 2010

When the UK is hit by a massive earthquake; the team investigate and uncover a plot.

4
"Mrs King - License to Spy"
January 18 2010
Mrs. King's memory wipe has failed, and the team must stop her remembering M.I. High before they are shut down.
5
"Don't Cook Now"
January 18 2010
The team investigate a restaurant owned by celebrity chef Tommy Blumenheck.
6
"Return of the Mummy"
January 25 2010
Oscar's mum has sent an urgent plea to M.I.9 asking to be rescued from SKUL; but Oscar and the others believe it's a trap.
7
"Doppelgängers"
February 1 2010
Robots which resemble the team, steal top-secret files from M.I.9 and put them on an auction site.
8
"High School Spy Movie"
February 8 2010
Every five years a item of historical value is stolen, for a thirty-year period.
9
"Black Hole"
February 15 2010
Things are being stolen, but the thief isn't a person or a living thing.
10
"Three Spies and a Baby"
February 22 2010
When the cleverest couple in Britain are kidnapped, the team are left to look after their baby.
11
"Millionaire Flatley"
March 1 2010
Mr Flatley stands to inherit a fortune - until he receives a ransom letter.
12
"SKULdiggery"
March 8 2010
Archaeologists come to Saint Hopes to investigate the disappearance of a Roman legion.
13
"The Octopus"
March 15 2010
The team go on an undercover, and underwater, mission to stop the earth's destruction.
Episode
Title
Original Airdate
1
"Vote SKUL"

January 10 2011

After the Grand Master is released from prison, he decides to stand as Prime Minister.
2
"The B Team"
January 10 2011
When the spies are captured, Frank turns three more pupils into M.I.9 agents to rescue them.
3
"Ghosts"
January 17 2011

A mysterious hacker launches a string of attacks after SKUL destroy the first artificial intelligence.

4
"Total Eclipse"
January 24 2011
All of the world, and Saint Hopes, are hypnotized during a solar eclipse; except Frank, Carrie, Oscar, and Mrs. King.
5
"The Gran Master"
January 31 2011

A notorious criminal escapes from  M.I.9 prison and reunites her gang of dangerous elderlies.

6
"The Patient"
February 7 2011
M.I.9 send a mysterious coma patient to Saint Hopes, but a team of SKUL ninjas are on his tail.
7
"The Crystal of St Helena"
February 14 2011
The Grand Master has built a super-weapon with only one component missing.
8
"The Wasp"
February 21 2011

The pupils of Saint Hopes are horrified when they are forced to speak politely.

9
"Bully Elliot"
February 28 2011
The team suspects a dance school may be hiding a secret.
10
"Tim Brown's SKUL Days"
March 7 2011
When the team discover a SKUL school they send Oscar on an undercover mission.
11
"The First to Crack"
March 14 2011
When a deadly poison is stolen from M.I.9, the spies suspect an eccentric puzzle maker.
12
"Day of the Jacket"
March 21 2011
M.I.9 are on high alert when they learn that an enemy spy has stolen a disguise jacket.
13
"The Lost Hero"
March 21 2011
Oscar walks out on M.I.9 and goes on a dangerous mission to infiltrate SKUL. Agreeing that nothing lasts forever; the team say goodbye to Saint Hopes and reminisce on all the adventures they have shared and friends they have made before leaving in a helicopter. Frank is left, waving them goodbye.
Episode
Title
Original Airdate
1
"The Fall of SKUL"
January 10 2013
The new spy team undertake one of their most dangerous assignments yet. Can they stop SKUL?
2
"Trojan KORPS"
January 10 2013
Loyalties are tested when a series of embarrassing incidents threaten to bring down M.I.9. Can they bring down SKUL once and for all?
3
"Grosse Encounters"
January 17 2013
An enemy satellite, which KORPS are desperate to get hold of, crashes near Saint Hearts. Can the team recover the black box before it falls into KORPS hands?
4
"The Face Of Revenge"
January 24 2013
An embittered music producer plans revenge on pop fans. Can an unlikely hero save the day?
5
"Mission: Incredible"
January 31 2013
The team go on their first international mission to the rogue state of Boldovia. Will they succed?
6
"The Hive"
February 7 2013
Saint Hearts is chosen by a celebrity chef as a test bed for his new health drink. Can Aniesha save the day without her friends?
7
"Old School"
February 14 2013
An old-school spy infiltrates the Saint Hearts spybase and hijacks an M.I.9 invention. Can Dan save the world from becoming stuck in the past?
8
"The Germinator"
February 21 2013
A plague of airborne supergerms incapacitates everyone. Can Tom fight his fear of being in the field and save the day?
9
"The Dark Wizard"
February 28 2013
The team infiltrate a fantasy convention. Can Dan put his faith in imagination to defeat the evil Dark Wizard?
10
"One Flew Over the Budgie's Cage"
March 7 2013
As the threat of nuclear destruction looms, the team face their most difficult dilemma. Can they rescue Frank from the clutches of evil Dr Retentive?
11
"Prison Break"
March 14 2013
The team must help a former KORPS leader escape from prison. Will the MI High team and their classmates escape?
12
"Inheritance"
March 21 2013
The team protect the heir to the throne of a small European state. Meanwhile, Zoe goes on the hunt for a sister.
13
"The Final Endgame"
March 21 2013
The team come close to losing one of their own to the dark side. Can they stop KORPS once and for all?
Episode
Title
Villain
Original Airdate
1
"The Mayze"
Dr Linus Currie, The Crime Minister and the Mastermind

January 13 2014

The team track down one of Zoe's remaining duplicants; Keri. Can they save her from the clutches of KORPS?
2
"Frankenstein"
Super Soldier Frank
January 20 2014
The team find a KORPS device designed to create super soldiers. Frank is accidentally zapped. Can they save hime before he destroys the base?
3
"The Man Who Drew Tomorrow"
The Crime Minister
January 27 2014
Clairvoyant Derren Beige is kidnapped by KORPS. Can the team find him and solve the mystery of his strange drawings?
4
"Revenge is Sweet"
President Carlotta
February 3 2014
When a government food advisor is sacked, he seeks revenge, with the help of twisted President Carlotta and some dodgy cupcakes. 
5
"The Shadow Games"
SKAPULA assassains
February 10 2014
Keri is mistakenly entered into the world's most deadly tournament; The Shadow Games. Will she get out alive?
6
"The Beginning"
Dr Linus Currie, The Crime Minister (present) and Walter M Dainbridge (flashbacks)
February 17 2014
The team step back in time to 1941. In the present day, can they rescue Roly, who has been kidnapped by KORPS. 
7
"Return of the Dark Wizard"
The Dark Wizard
February 24 2014
Tom discovers the online Dark Wizard Avatar from Blade Quest has become self-aware. Can he stop the Dark Wizard with the help of some unlikely allies?
8
"Free Runner"
Lloyd Lewis and Sergei Alexzandrov
March 3 2014
Dan is drawn into the world of the Guardian Runners. Are they really behind the recent crimes?
9
The League Of The Mata Hari
March 10 2014
The team uncover a criminal conspiracy deep within M.I.9. Is Frank involved? 
10
"Sad Men"
Mr Scraper 
March 17 2014
Mysterious anti-capitalist group the 99p threatens to bring down the value of the global economy, to 99p. 
11
"The Problem Probe"
Android Mandy and the Crime Minister
March 24 2014
KORPS kidnap a famous agony aunt and confidant of the Prime Minister, named Mandy Pluckley. Can they rescue her in time?
12
"We Need to Talk About KORTEX"
Hamish Campbell, Mike Stern, The Crime Minister and the Mastermind
March 31 2014
A government worker comes to the team for help and an unlikely traitor is revealed. 
13
"The Last Stand"
Hamish Campbell, Mike Stern, The Crime Minister and the Mastermind
March 31 2014
The team's only option is to bring the war to KORPS. Can they prevent the Crime Minister from becoming Prime Minister?
Community content is available under
CC-BY-SA
unless otherwise noted.